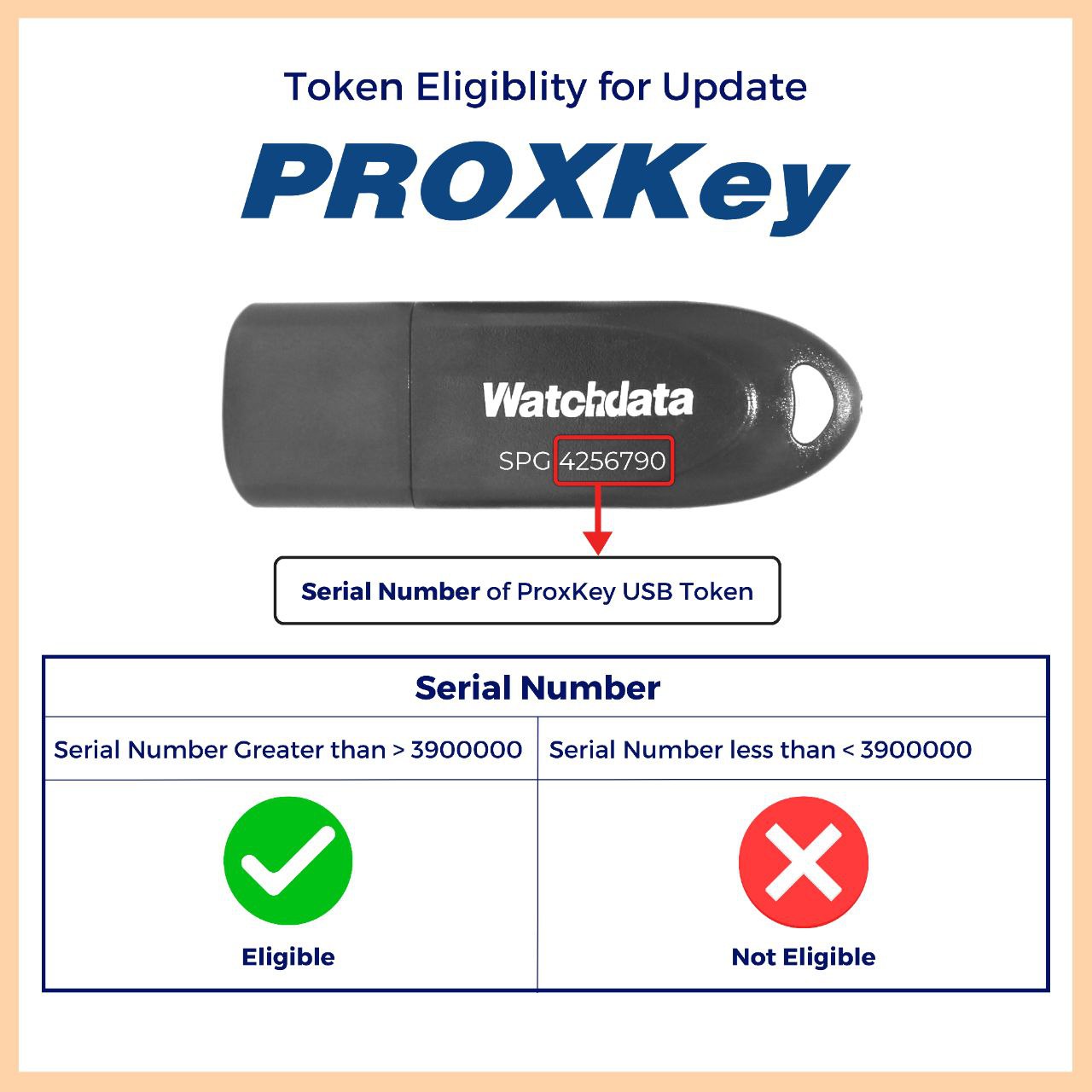 Dear Partners
As you are aware that Controller of Certifying Authorities (CCA) has released new guidelines 2.0 for Crypto Token device on November 14, 2022, ProxKey Tokens are fully complaint and ready for implementation of new guidelines. The effective date for the new guidelines is April 1, 2023
There are certain FAQ for implementation of new guidelines which we have address through this document
COMPLIANCE OF PROXKEY TOKEN & AVAILABILITY OF NEW SERIES OF TOKENS
New series of ProxKey tokens are complaint with the CCA Crypto Guidelines 2.0. New series of tokens are READILY AVAILABLE for delivery. You may contact your CA / RA / DSC Provider for latest price and quick delivery of tokens.
HOW TO IDENTIFY NEW SERIES OF TOKEN?
The serial number of new series of Token starts with 'WD' which is the initials for OEM 'Watchdata'. You need to check the serial number engraved on the token (A sample picture is enclosed for your reference). You can also verify the serial number from the token middleware in the Device Information Section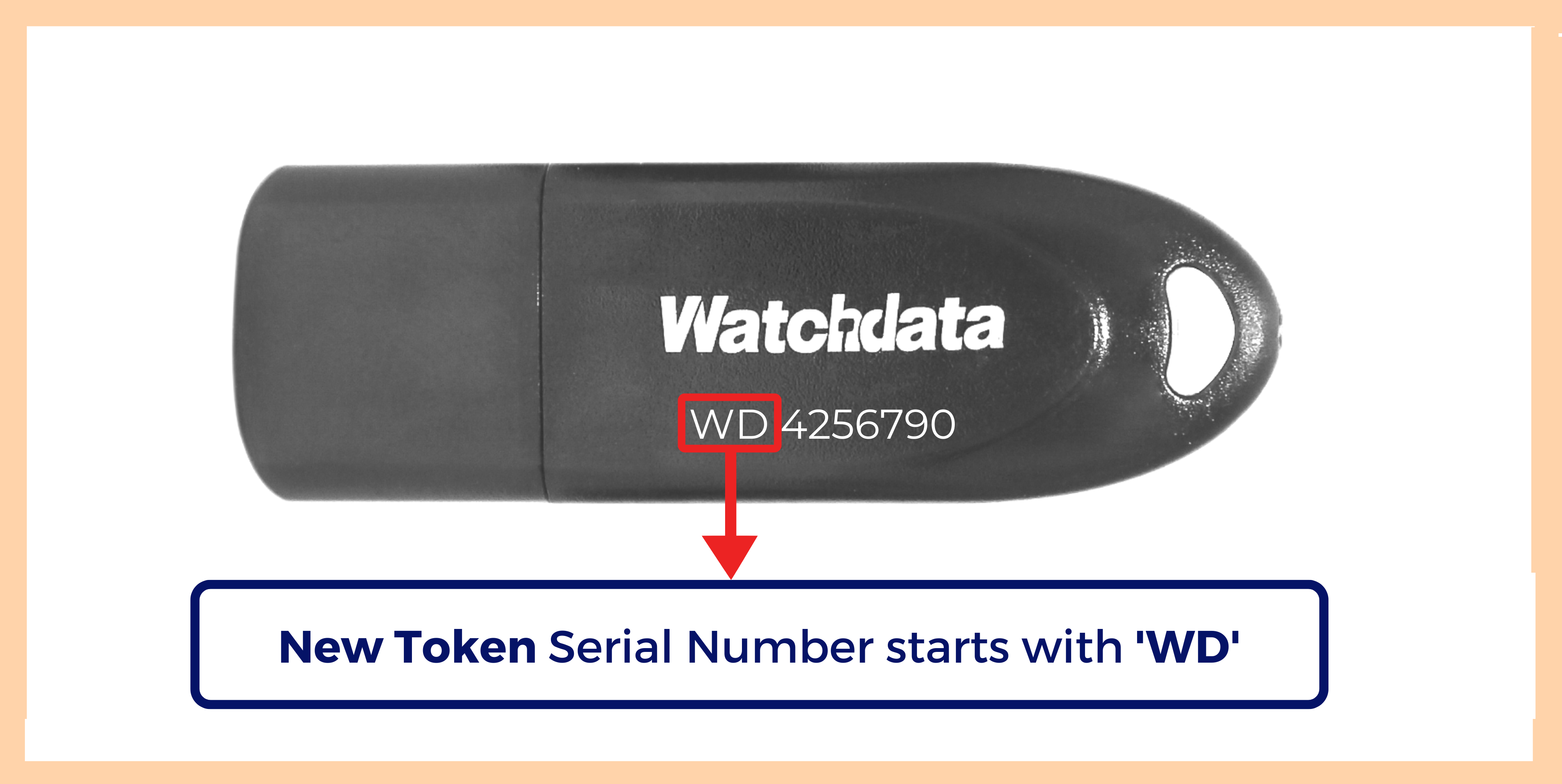 Physical Appearance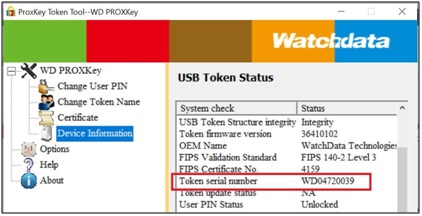 Verify Serial number in Token Middleware
WHAT HAPPENS TO THE OLD SERIES OF TOKEN?
As per the CCA Guideline 2.0 for Crypto Tokens, only new series of Token can be used to download certificate from April 1, 2023. So old series token cannot be used to download new certificate from April 1, 2023. Further clarification on old series of token is as under
 Old series Tokens on which DSC is already downloaded before March 31, 2023
Tokens will works normally with the latest middleware release for signing and encryption purpose. But you cannot download any new certificate on these tokens from April 1, 2023. So you need not worry to update or replace tokens in which DSC is already downloaded on or before March 31, 2023
Unused Stock of old series token on March 31, 2023
To avoid loss to partner on account of unused stocks, existing unused eligible stock of ProxKey tokens are eligible for update to comply with New Guidelines 2.0 on chargeable basis. Only specific serial numbers of tokens are eligible for update. Tokens Series above 3900000 (Thirty Nine Lakhs)  are eligible for update
CHARGES FOR PROXKEY TOKEN UPDATE
FREE UPDATE OFFER FOR SMALL RA'S
To avoid hardships, we have launched a special scheme for small RA's satisfying below conditions to provide Free of cost update
Update for ProxKey tokens upto 100 quantity shall be available free of cost.
EKYC verified account with any Certifying Authority (CA) & valid GST number is mandatory to avail this offer.
RA's must additionally submit their GST RC copy while sending the courier to our address and the tokens will be returned to the same address mentioned in the GST RC.
A Nominal amount of Rs 200 is payable towards shipping charges. RA's must pay the same via cheque or online transfer from the same bank account of the entity registered under GST.
Offer is valid until 31st March 2023 & for tokens received at our address on or before March 31, 2023.
This offer can be availed once by one GST registered Entity.
For selected & specific cases, our team may later contact RA's to submit their proof of purchase of tokens for further verification
For tokens not eligible under Free Update as above, the update charges shall be INR 45 per token which includes Update Cost, GST, Handling, Packing & once side return shipment cost. For tokens below 100 Quantity an additional shipping charge of Rs 200/- (All Inclusive) shall be levied.
PROCESS TO GET THE UNUSED OLD SERIES TOKEN UPDATED TO THE NEW SERIES TOKEN
The update process of unused old series tokens is offline and hence partners need to physically send the tokens to our facility and follow the steps as under:
Step 1 : Check of your token series is eligible for update – https://knowledge.cryptoplanet.in/article/eligble-proxkey-series-of-token-for-update/
Step 2 : Take a proper count of tokens and make the payment for update charges in the bank details or UPI code mentioned here under
Step 3 : Secure pack the tokens and ship it our address below
 Step 4 : Send an email on 'support@pagariagroup.com' with Subject 'Update of Unused ProxKey Token' with the following details (All details are mandatory except GST number)

Company Name :
Contact Number :
GST Number (Optional) :
Token Count :
Address with PIN Code : <<Address to ship back the updated token>>
Payment Details :
Courier Docket Details :
 Important Points before sending the tokens
Kindly make the payment for update charges before sending the tokens by courier. Payment details needs to be mentioned in the email sent by you. Token courier parcels without payment details will not be received
Do not send used or ineligible series of tokens for update. Tokens will not be usable for such series and you will also lose the update charges paid.
Share complete details on email before sending the tokens to our address
Kindly ensure to mention your PIN code in the return courier address.
Once you dispatch the courier to our address, kindly share the courier details on the same trail email. Do not change the subject
TIME REQUIRED TO GET BACK THE UPDATED TOKENS
The update process usually takes 4-6 weeks from the date of receipt of tokens at our address depending on the quantum of tokens. Dispatch for the updated tokens is expected to start from Mid May 2023. The timelines are tentative and may change due to quantum of token. Our team will intimate you via email once the tokens are ready for dispatch.
TIME PERIOD FOR SEND UNUSED OLD SERIES TOKEN FOR UPDATE
Tokens can be sent for update only for a limited period of time from March 20, 2023 to April 30, 2023 as this is facility is only made available to avoid loss to partners of unused stock of old series tokens
BANK DETAILS FOR PAYMENT
UPI QR CODE
BANK DETAILS
ACCOUNT NAME
: PAGARIA ADVISORY PVT. LTD.
ACCOUNT NUMBER
: 50200012340772
IFSC
: HDFC0000258
BANK & BRANCH NAME
: HDFC BANK LTD, NERUL EAST      BRANCH
ACCOUNT TYPE
: CURRENT