FIRST TIME USER PIN AND ADMIN PIN SETUP
This article will explain how to set the USER PIN & ADMIN PIN for the ProxKey USB token used for digital signature
USER PIN
User PIN is the password which the subscriber of the digital signature (DSC application) will have to use while doing a digital signature using his ProxKey token.  User can subsequently change his user PIN from the token middle ware (refer article "Change User PIN").
First you need to install the token driver/middle ware. Follow the article "Proxkey Driver Installation"
After the installation of the software and when the token is plugged in, the user/RA will be advised to set the PIN as shown in image below. The user should enter the appropriate PIN length between 6-32 characters and set the user PIN.
Each new token must be set with a user defined PIN as there is NO DEFAULT PIN set in the token.  The length of the PIN should be between 6-32 (Alpha Numeric) characters. This PIN can be reset by the user later if needed.
If the PIN is entered exceed the range of 6 to 32 characters, a warning window will pop out to tell you PIN for the token requirements
Once you enter the PIN as per the validation click "OK"
ADMIN PIN
Admin PIN is the password which is set up by the RA (DSC Registration Authority) / CA (Certifying Authority) / IT Administrator of the organization. This PIN is useful to unlock the USER PIN in case the user forgets the PIN.
If the user forgets the PIN, he can approach the RA / CA / IT administrator for unlock of USER PIN. The RA/CA/IT admin will do the necessary verification of the user before unlocking the PIN. On successful user verification , he can unlock the USER PIN using his admin PIN (Refer article "Unlock User PIN")
Setting up of ADMIN PIN is NOT MANDATORY as ProxKey token comes with a default ADMIN PIN already set in the token.
Below are the steps for setting ADMIN PIN of the Token
While you connect the token first time to the computer, It prompts to set USER PIN, enter the user PIN & click on "CHANGE ADMIN PIN" box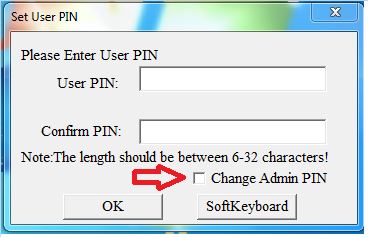 Enter the ADMIN PIN you wish to set. The ADMIN PIN must be 6-32 character longs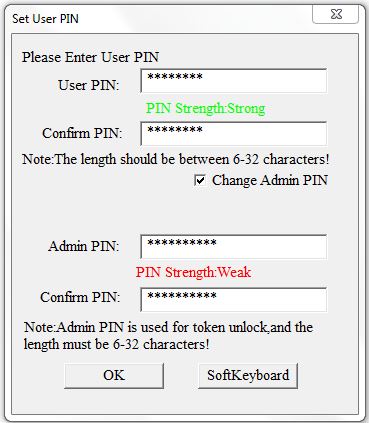 Note : Please remember the ADMIN PIN if you have changed it during the first token setup. ADMIN PIN cannot be recovered. In case you even forget the ADMIN PIN , the token needs to be formatted and all the DSC (digital signature certificate) in the token will be erased