This article will help you to identify the policy class of your certificate in your ProxKey USB Token.  There are many class of certificate which are given in details as under :
 Class 1 Certificate:  Class 1 certificates are issued to individuals/private subscribers. These certificates will confirm that user's name (or alias) and E-mail address form an unambiguous subject within the Certifying Authorities database
Class 2 Certificate: Class 2 certificates are issued for both business personnel and private individuals use. These certificates will confirm that the information in the application provided by the subscriber does not conflict with the information in well-recognized consumer databases.
Class 3 Certificate: Class 3 certificate are issued to individuals as well as organizations. As these are high assurance certificates, primarily intended for e-commerce applications, they shall be issued to individuals only on their personal (physical) appearance before the Certifying Authorities.
How to check class of your certificate
Connect the token , locate "WD ProxKey" Icon on the desktop and double click on it to launch the token management utility
Click on "CERTIFICATE" Option . All the certificates stored in the token will be listed under " USER CERTIFICATE" . Double click on name to open certificate properties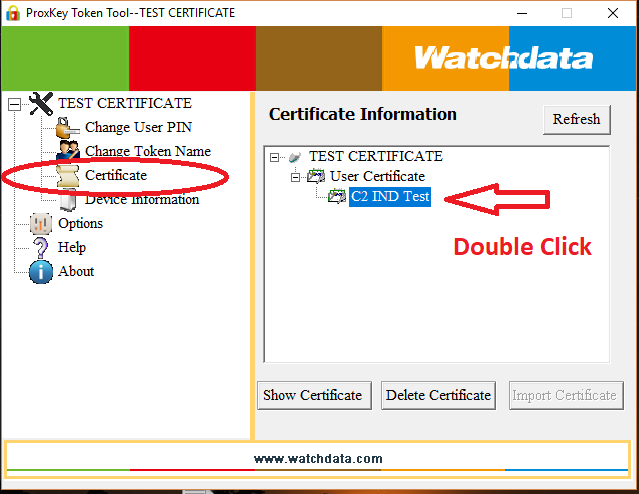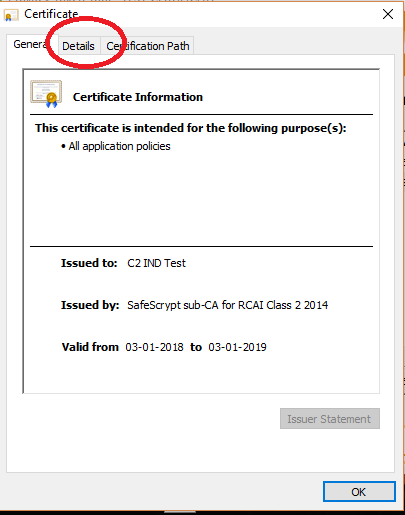 Locate the field "Issuer" and click on it. Your certificate class details could be seen in the window below